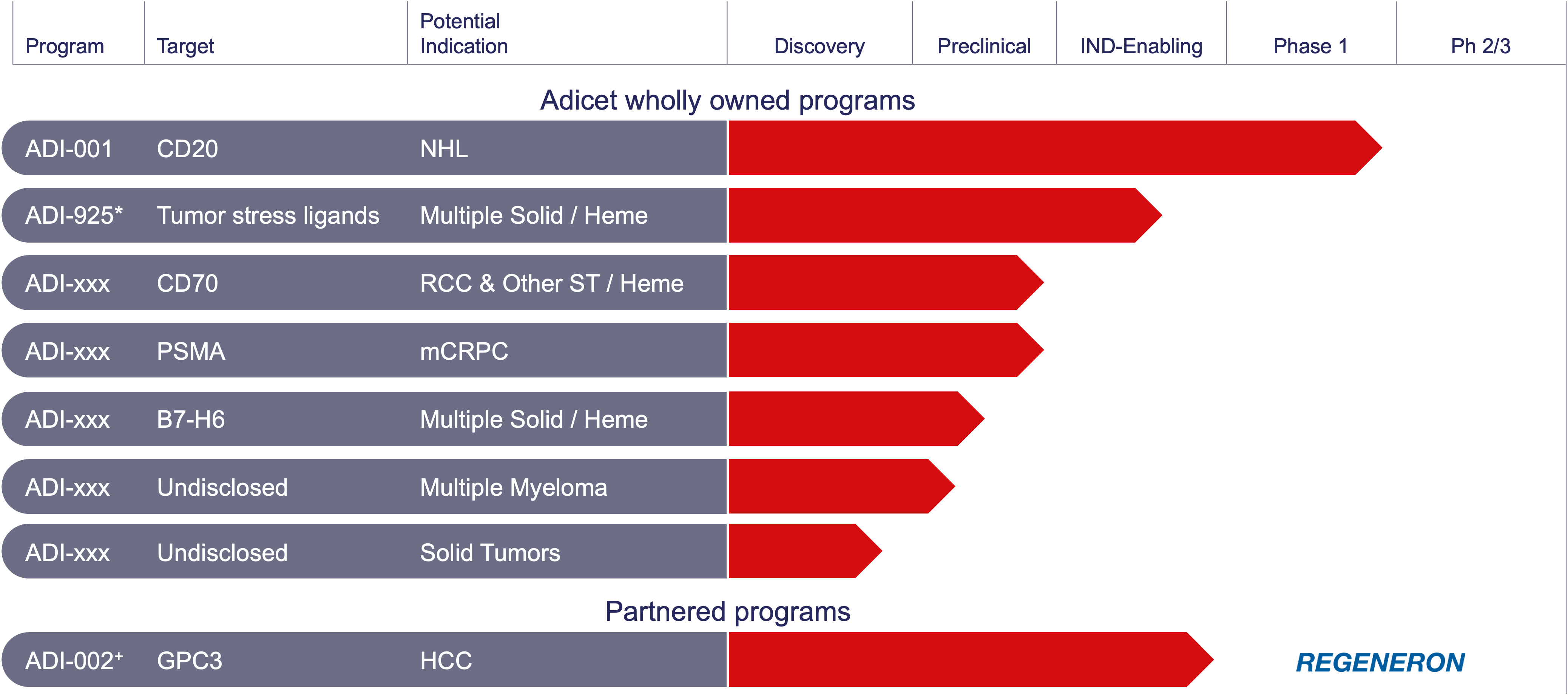 *ADI-925 is an engineered Chimeric Adapter (CAd) γδ1 T cell product candidate targeting stress ligands, including MICA/MICB & ULBP1-6, expressed on malignant cells
+ Regeneron exercised its option to license the exclusive worldwide rights to ADI-002
HCC: Hepatocellular carcinoma; mCRPC: Metastatic castration-resistant prostate cancer; MICA/MICB: Major histocompatibility complex (MHC) Class I chain-related protein A/B; NHL: Non-Hodgkin's lymphoma; PSMA: Prostate-specific membrane antigen; RCC: Renal cell carcinoma; ST: Solid tumor; ULBP: UL16 binding protein
Adicet's pipeline is based on its allogeneic ("off-the-shelf") gamma delta T cell platform, engineered with chimeric antigen receptors (CARs) and adaptors (CAds), to enhance selective tumor targeting and facilitate innate and adaptive anti-tumor immune response for durable activity in patients.
Building on the key attributes of the gamma delta platform, Adicet has built a robust pipeline based on the following strategies:
Focus on gamma-delta T cells, leveraging their innate and adaptive anti-tumor activity
Engineer our gamma-delta T cells to significantly increase their potency
Follow the gamma-delta1 T cell's known tissue residence and infiltration to solid tumors to increase the exposure of the engineered gamma-delta1 T cell in the target malignant tissue
Armor the cells to enhance their resilient functionality in the solid tumor microenvironment
Focus on indications based on prior scientific proof-of-concept and high unmet medical need to increase the probability of success
Distinct among immune cell populations, we believe allogeneic, off-the-shelf, gamma delta T cells may have the following combination of attributes:
Actively cytotoxic to tumor cells;
Express both T cell and natural killer (NK) cell receptors, facilitating both adaptive and innate anti-tumor immune responses; this may help address treating tumors that are heterogeneic (diverse);
Can replicate in an appropriate and measured way; reactivity to tumor cells is enhanced by engineering of the cell;
May functionally persist in patients for clinically meaningful periods of time;
Have distinct advantage in solid tumors, as gamma delta 1 T cells primarily reside and function in tissues;
Can be used "off-the-shelf" and potentially manufactured in large numbers to facilitate consistent treatment of many patients, avoiding the cumbersome nature and expense of isolating cells from each patient.
ADI-001
Our lead product candidate, ADI-001 is an investigational allogeneic gamma delta CAR T cell therapy being developed as a potential treatment for relapsed or refractory B-cell NHL.
ADI-001 targets malignant B-cells via an anti-CD20 CAR and via the gamma delta innate and T cell endogenous cytotoxicity receptors. Gamma delta T cells engineered with an anti-CD20 CAR have demonstrated potent antitumor activity in preclinical models, leading to long-term control of tumor growth.
In addition to showing a favorable safety and tolerability profile, initial Phase 1 clinical studies of ADI-001 have shown promise in providing both complete responses and durability of response.
In April 2022, ADI-001 was granted Fast Track Designation by the U.S. Food and Drug Administration (FDA) for the potential treatment of relapsed or refractory B-cell NHL.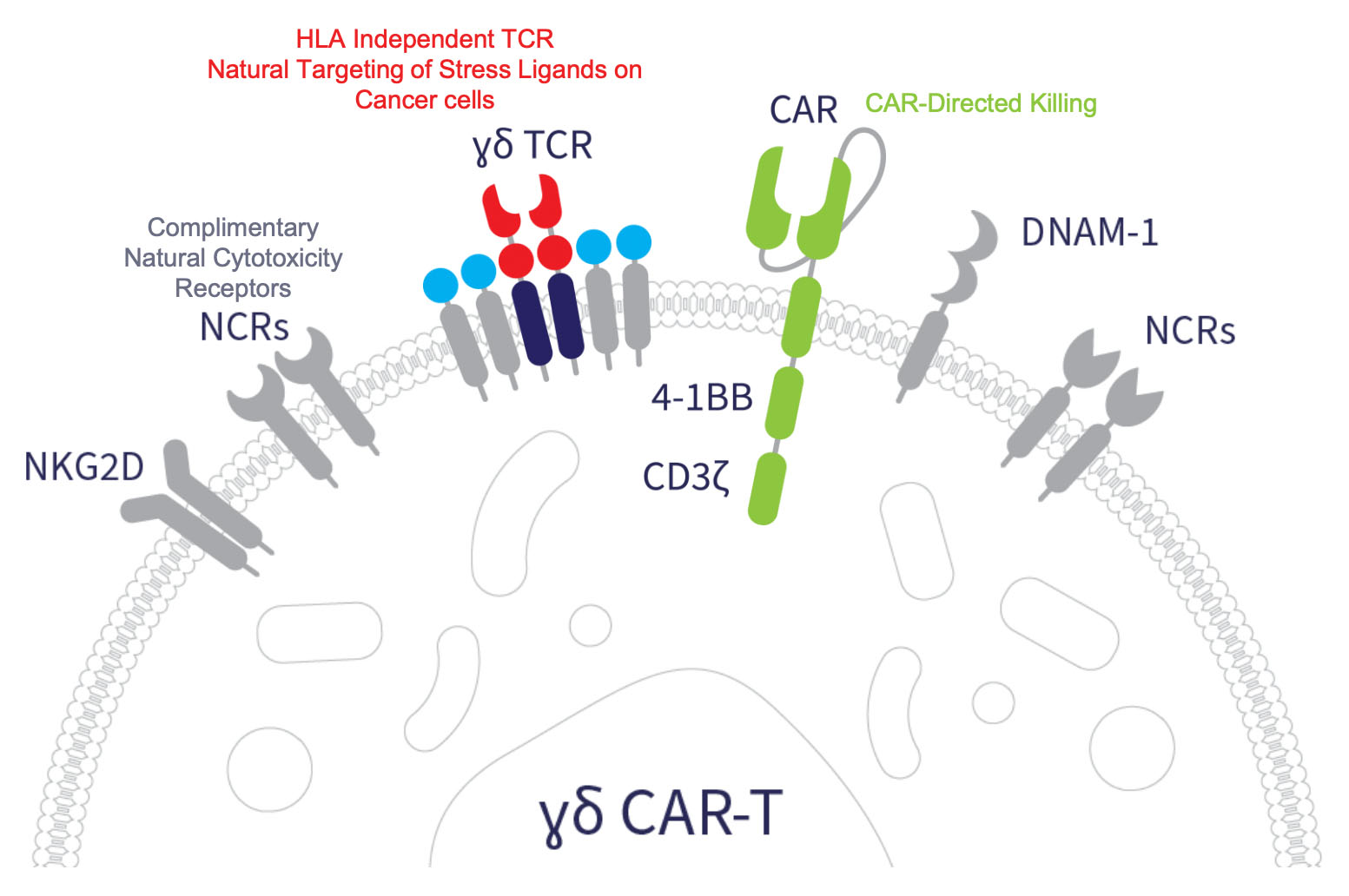 ---
ADI-925
ADI-925 is designed to enhance the innate and adaptive anti-tumor activity of γδ1 T cell
ADI-925 is an engineered Chimeric Adapter (CAd) γδ1 T cell therapy candidate targeting stress ligands, including MICA/MICB & ULBP1-6, expressed on malignant cells
ADI-925 has demonstrated increased anti-tumor activity at lower concentrations of γδ1 T cells
Developed in-house with broad IP on file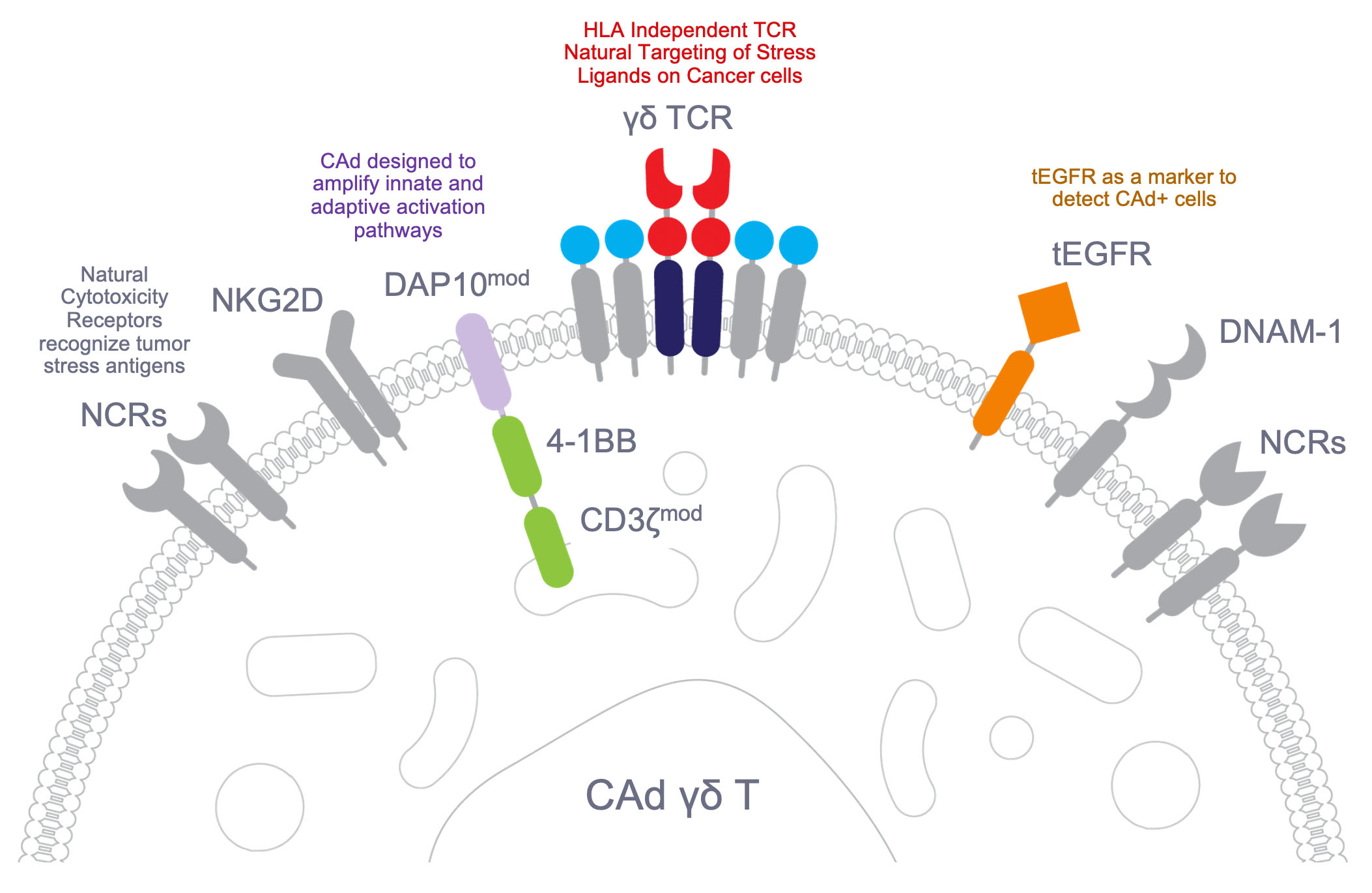 ---
Armored CD70 CAR γδ T cell
Targeting CD70 via CD27-ligand has shown superiority to scFv CARs1
Innate and adaptive targeting mechanisms associated with activity in AML and RCC indications
Armoring via dominant negative receptor; addresses TGFβ in Tumor Microenvironment2
Lead CAR demonstrated potency and improved serial killing, and resilience against suppressive factors
Supports functional enhancement illustrated in preclinical models

1​ Sauer et al. Blood (2021)
2 Junker et al. Cytokine (2000)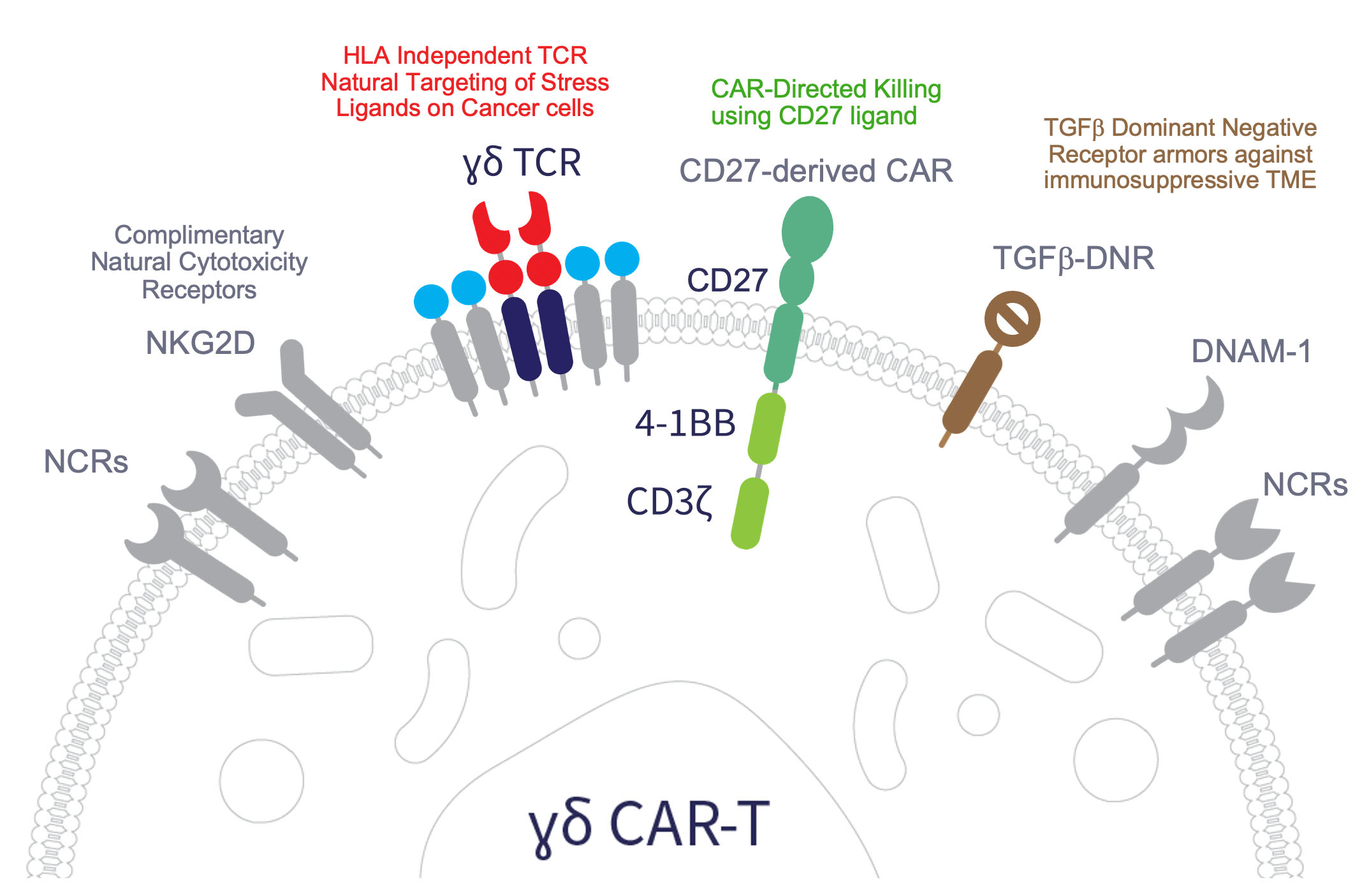 ---
Armored PSMA CAR γδ T Cell Program
Lead candidate targeting PSMA demonstrated improved characteristics versus benchmark1
Heterogeneous PSMA
Armoring technology via TGFβ-DNR improved activity, serial killing, and functional resilience

1 Liu et al. Cancer Res. (1997)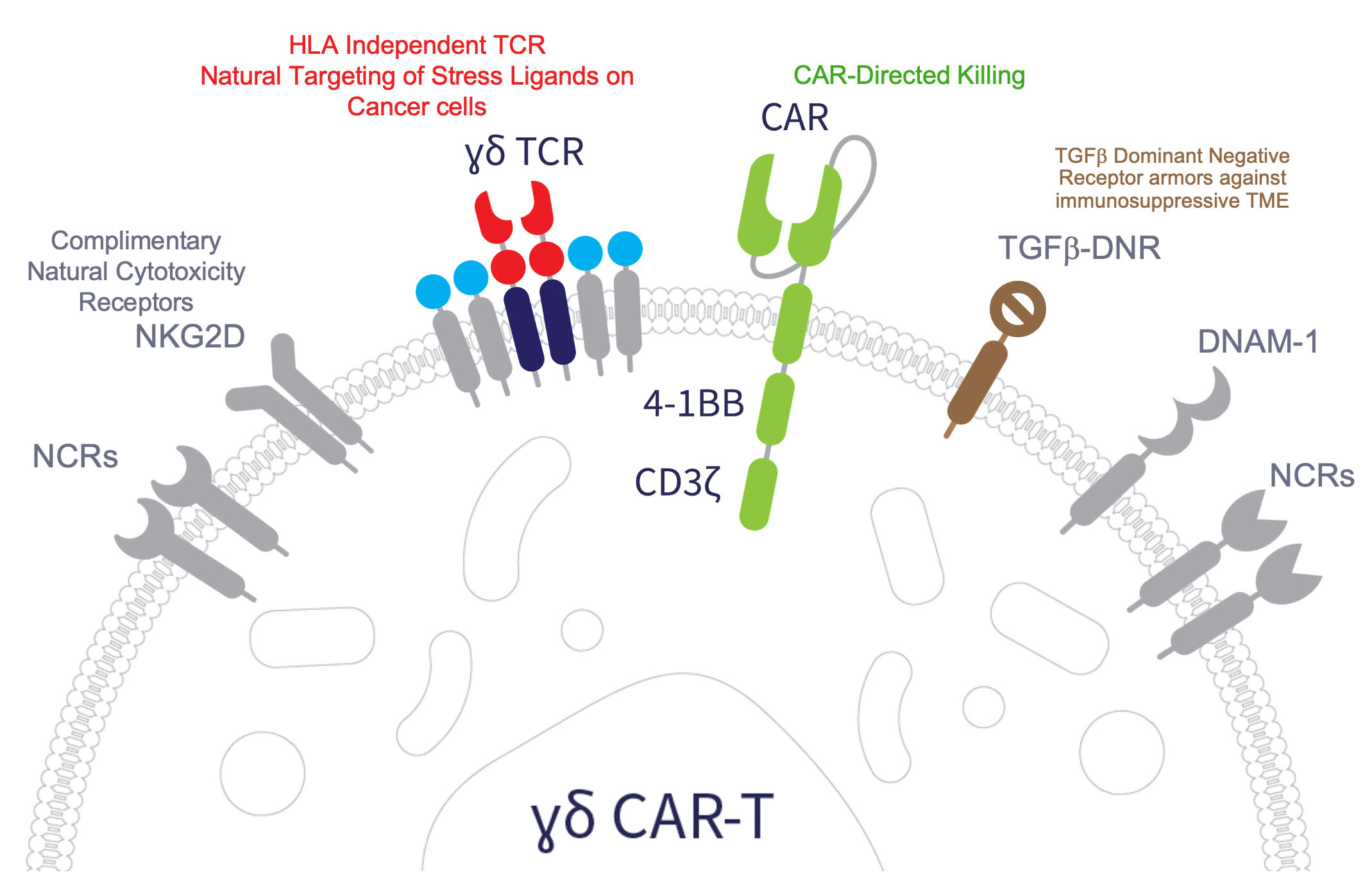 ---
Armored B7-H6 CAR γδ T Cell Program
Potential to be first-in-class B7-H6 targeted cell therapy product in clinic
B7-H6 is expressed in >95% of CRC cases and other gastrointestinal cancers, where a high level of homing for γδ1 T cells exists1
Lead optimization is underway for an armored CAR, with current efficacy studies supporting potent anti-tumor activity

1Zhang et al. Clin Can Res (2022)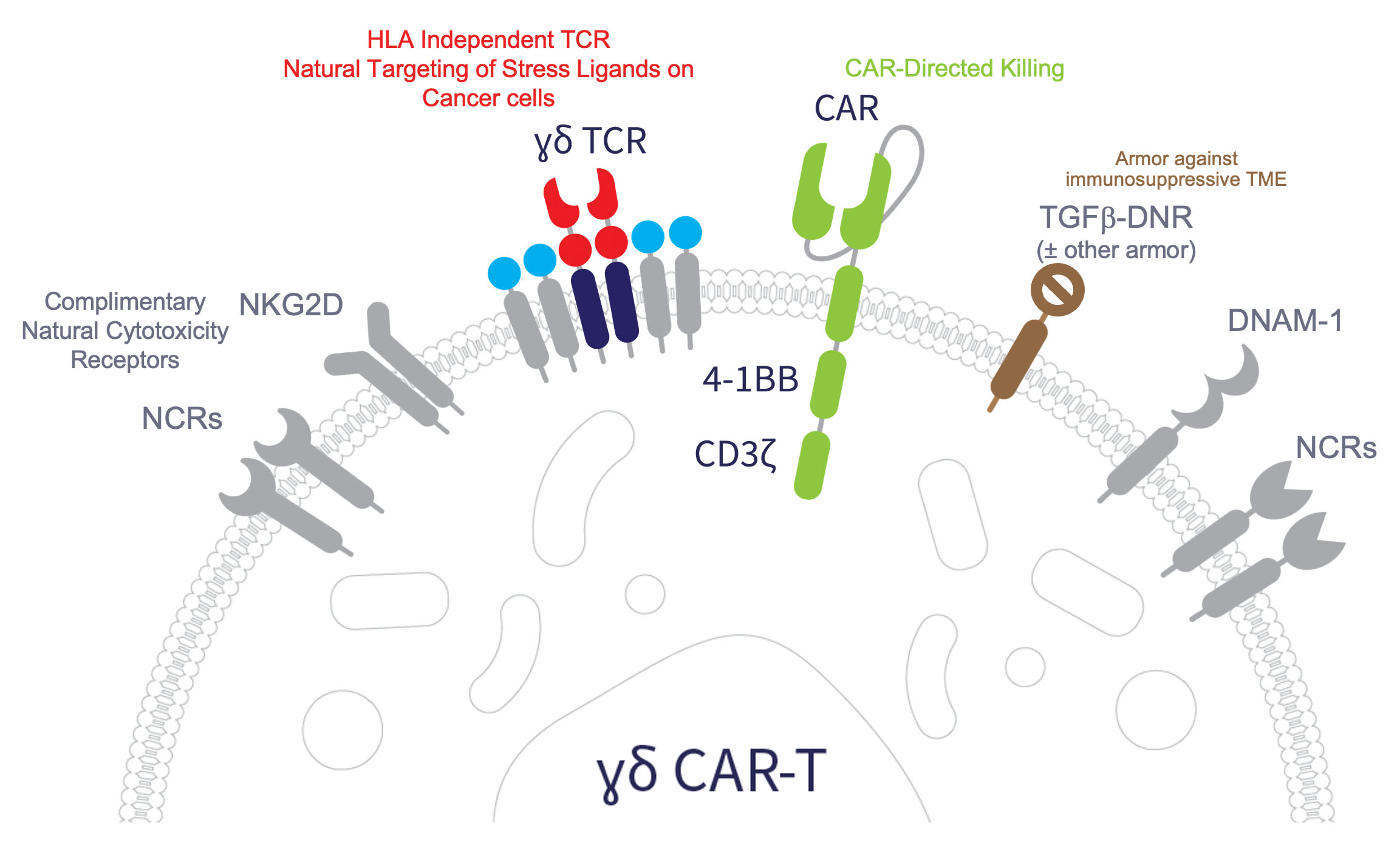 Expanded Access
Expanded Access refers to the use of an investigational therapy outside of a clinical trial for potential treatment of a serious or life-threatening condition. Adicet is a clinical stage biotechnology company discovering and developing allogeneic gamma delta T cell therapies for cancer. Consistent with our commitment to bring innovative, safe, and effective therapies to patients, we are focused on conducting the clinical trials necessary to gain regulatory approvals to make our therapies available to patients as quickly as possible. Participation in one of our clinical trials is the best way to access Adicet gamma delta T cell investigational therapies. As such, Adicet does not provide access to our investigational therapies on an Expanded Access basis at this time.
We encourage patients interested in our investigational therapies to learn more about our ongoing studies by visiting clinicaltrials.gov. Treating physicians may request additional information about Adicet's Expanded Access policy by contacting inquiries@adicetbio.com